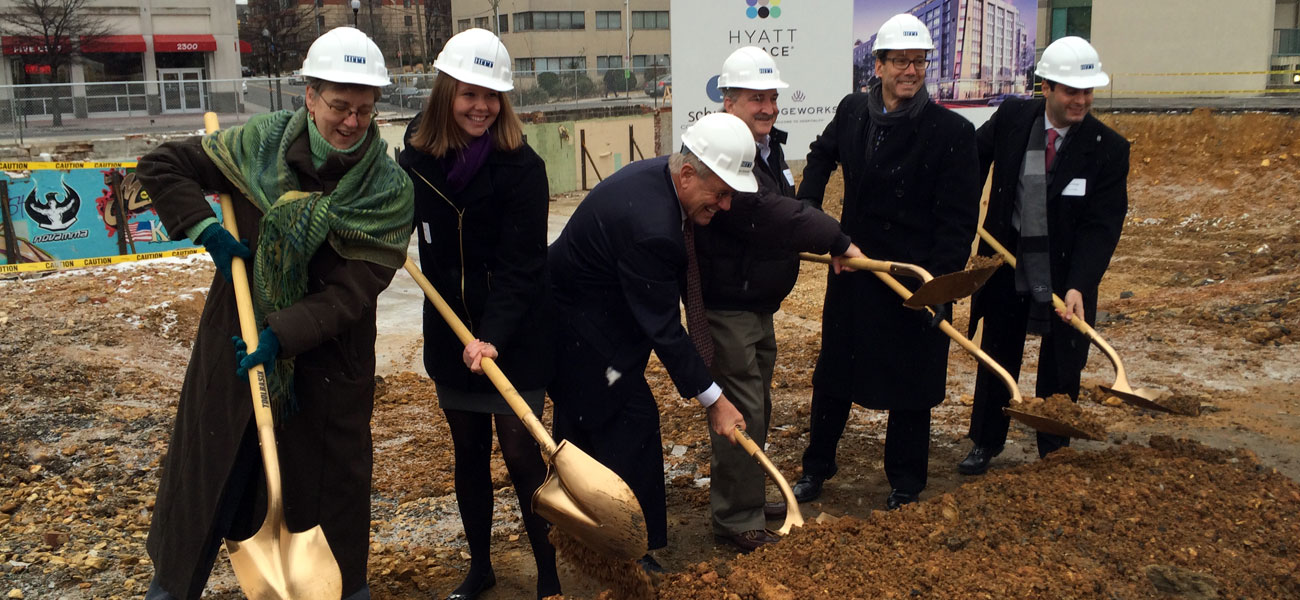 02 Feb

Officials Break Ground for New Hyatt Place in Arlington

Vienna-based Schupp Companies has started work on a new eight-story, 161-room Hyatt Place hotel in the Courthouse area of Arlington, according to a news release from the company. Scheduled for completion in summer of 2016, the project includes space for an independent restaurant and underground parking for 80 cars.

Per the final approval, this will be the first hotel in Arlington County built to LEED Gold standards and the first LEED Gold Hyatt Place anywhere in the world. The project will contribute $2.235 million in community benefits for improvements to the Courthouse Metro, affordable housing, public art and underground utilities, according to the company. The project will generate more than 100 construction jobs and once complete, is expected to generate additional annual taxes to Arlington in excess of $1 million, according to Schupp.

"I have imagined this day for a long time – although I imagined warmer weather," said Ray Schupp, owner and president. "My family and I are extremely excited by the project that lies ahead, and the future of this hotel on Arlington's vibrant R-B corridor."

The Hyatt Place hotel has been designed by Cabin John-based Gordon and Greenberg architects in collaboration with DC-based WDG. The architecture of Arlington's new Hyatt Place will anchor this compact new hotel at the corner of Wilson Boulevard and Adams Street.

Here's a description of the design, from Schupp: "Dramatic planes slice through the building in acknowledgement of the larger scale commercial buildings and activity along Wilson Boulevard. The scale of these planes gradually reduces as the building tapers to respectfully address its residential neighbors in Lyon Village. Large windows along Wilson Boulevard open the lobby and restaurant up to the street. A classy new sculpture specifically designed by Vivian Beer for this corner will greet guests and "tip its hat" to neighbors on their daily commute."

Hyatt's website describes the Hyatt Place brand as:

"A different kind of place. Created for multi-blenders with 24/7 lifestyles seeking a select-service hotel that will allow them to balance work and play, Hyatt Place is a new generation of hotels that offer casual hospitality in a smartly designed, high-tech and modern environment. The brand was an industry leader in defining the upscale select-service category, and still exclusively offers food and beverage options freshly prepared 24-hours a day, seven days a week. And our unique Gallery Host model allows hosts to reflect our guests by being multi-blenders that can check a guest in, make a Starbucks® cappuccino or prepare an entree. This unique model drives operational efficiencies."

Hyatt Place offers a range of amenities and services, such as free wi-fi and complimentary a.m. Kitchen Skillet™ breakfast, valued by business travelers, while providing open areas and a variety of seating where guests can unwind and connect with others. Spacious guestrooms allow guests to spread out and enjoy the Hyatt Grand Bed™, a Cozy Corner sectional sofa sleeper and other modern comforts.

The $40 million project at the corner of Wilson & Adams will be primarily funded by EagleBank and constructed by Hitt Contracting.