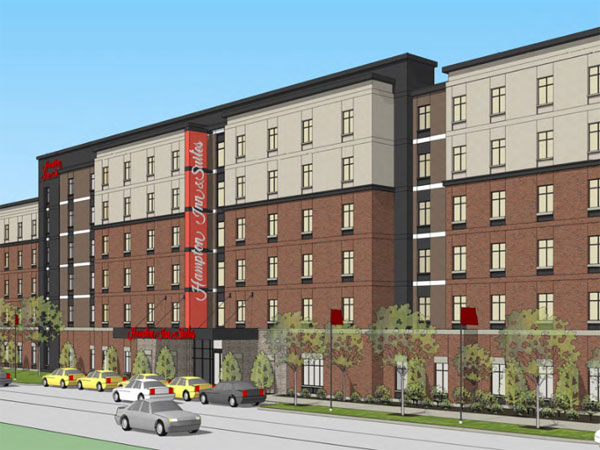 05 Dec

Schupp proposes hotel-anchored 'Springfield Gateway' by I-95 on-ramps

The stretch of Route 644 in Springfield between Springfield Plaza and the Springfield Town Center is fast becoming hotel alley.

Vienna-based Schupp Cos. acquired its "Springfield Gateway" site on the south side of Franconia Road at Backlick Road, adjacent to the Interstate 95 ramps, in 2016, and has since proposed a 165-room Hampton Inn & Suites for the property. The flag approved the franchise application for 6841 Franconia Road on Aug. 8, according to Schupp's website.

Seemingly every hotel brand is already represented in this general area, largely because of its ease of access to I-95, I-495 and I-395. Its proximity to booming Fort Belvoir, to the Springfield Town Center, to the National Geospatial-Intelligence Agency headquarters and to the future Transportation Security Administration headquarters is providing additional momentum.

Across Route 644 from Springfield Gateway is a Residence Inn by Marriott and a Homewood Suites by Hilton — both of which opened only in the last few years. On the other side of the Mixing Bowl, across from the Springfield Town Center, is the Hilton Springfield, a Wingate by Wyndham, a Comfort Inn, a Best Western and a Courtyard by Marriott.

"I am very happy to see the continued positive revitalization of Springfield," said Fairfax County Supervisor Jeff McKay, D-Lee, who represents central Springfield. "This latest application revitalizes a key corner of Springfield that has uses now that are way beyond their prime and in some cases environmentally problematic. Springfield has attracted many hotels which are great uses as they don't generate much traffic, and certainly don't generate more school students."

The Schupp project includes the hotel, on the east side of Backlick Road where a deteriorating strip of retail storefronts now stands, and a 175-space parking garage behind it. At Backlick Road and Springfield Boulevard across the street from the proposed hotel, Schupp plans to update the facade to another retail strip — a rendering envisions a small market and coffee shop there.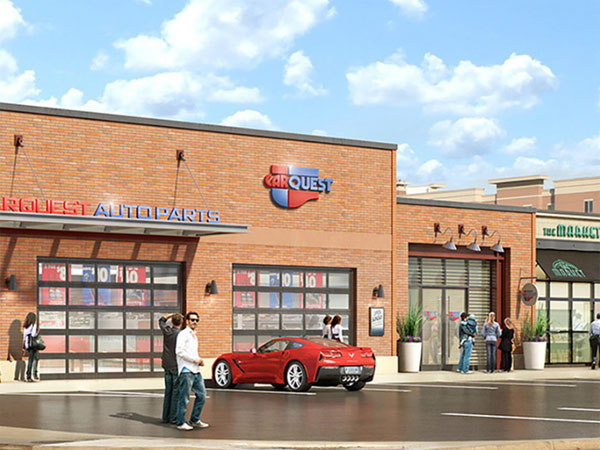 The Schupp plan does nothing, however, about two of Springfield's least enticing sites just steps away from the hotel parcel. The MVC Late Night Video store and a vacant office building, both owned by affiliates of D.C.-based Douglas Development Corp., continue to dominate the Old Keene Mill Road intersection with Backlick Road.
McKay said he is "hopeful this latest application will encourage future other improvements in Springfield."
"In the area of the redevelopment we once had many boarded-up, blighted and abandoned properties and we now have great interest in upgrading the area," the supervisor said. "Each of these cases builds on the previous and we are cementing a strong future for Springfield each step of the way."
I have reached out to Douglas executives for comment, and will update if I hear back. A Schupp executive said the firm has not approached Douglas about acquiring its properties.
Schupp's other projects include the Hyatt Place Courthouse and the planned redevelopment of the Staples store and adjacent apartments at 3804 Wilson Blvd. in Virginia Square with a six-story, 161-room extended stay hotel.
The Fairfax County Planning Commission has scheduled a March 2018 hearing on Springfield Gateway.
By Michael Neibauer – Associate Editor, Washington Business Journal
Source : Washington Business Journal